The Board of the association consists of seven mouth and foot painting artists, including the President and the Vice President. These must be full members of the Association. A Legal Adviser is a member of the Board too.
At the General Assembly in Vienna in 2013 Dr. Johannes Gasser was elected by the members as the Legal Adviser.
Serge Maudet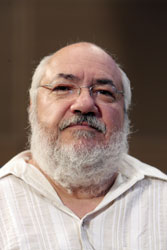 Born: 01.02.1954
Birthplace: Roussay
Member of AMFPA since: 1983
Painting Method: Mouth painter
Serge Maudet's hands and legs have been paralysed since birth. Already as a child his mother taught him to use his mouth and to hold a pencil between his teeth. "I was born with a brush between my teeth. Painting was my first means of expressing myself. As a child I painted the things that I could not do and that became the tool for expressing my feelings", says the mouth painting artist. At the age of 17 he decided to take a correspondence course in accounting. However, he soon realised that he was not suited to that kind of work. He decided to dedicate himself fully to drawing. At the age of 22 he received a scholarship from the Association. In 1983 he became a Full Member of the VDMFK. In October 2002 he was elected member of the board on the occasion of the general meeting in Lisbon. In July 2013, on the occasion of the General Meeting in Vienna, the members elected him to the President's Office of the Association of Mouth and Foot Painting Artists of the World.
Serge Maudet took private classes with a professor in Paris. As a landscape painter the artist follows the tradition of the French impressionists. In many paintings and some details the artist's personal pictorial philosophy of life becomes evident. Every year Serge Maudet takes part in numerous exhibitions. In addition, every year he teaches various courses, aimed at those people who want to embark on the adventure of painting. Serge Maudet's great success with his works and his courses have made the media report repeatedly about the mouth painting artist.
Ruth Christensen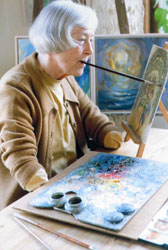 Date of birth: 12.02.1929
Place of birth: Lynge
Full member of VDMFK since: 1982
Painting style: Mouth painter
At the age of 11 Ruth Christensen lost both arms up to the elbow in an accident. In her youth she attended the arts and crafts school in Copenhagen. She then worked in an advertising agency as a gra-phic artist for a number of years. Back then she had already found her own style in floral and Nordic Christmas motifs. She designed a Christmas welfare stamp for the Royal Danish Post and a Christmas card for the European Council in Stras-bourg in 1992.
Aside from her job as a graphic artist, Ruth Christensen began mouth painting with an ambitious artistic language. Her colorful and expressive floral pieces, still lifes and landscapes are her preferred subjects. She also likes to ex-press the refraction of water. In doing so, she uses glasses filled with water which optically refracts branches and flower. She also enjoys painting children, animals and the Christmas spirit in various techniques. She generally paints with watercolors or oil paints. Thanks to her numerous works, she has already been able to participate in numerous exhibitions. Ruth Christensen has been a member of the association since 1982.
In 1992 she was elected to the board of the VDMFK which she is still a part of today. The connection and friendship with mouth and foot painting artists from around the world are her hobbies. She keeps in close contact particularly with her colleagues in the Scandinavian countries.
Kun-Shan Hsieh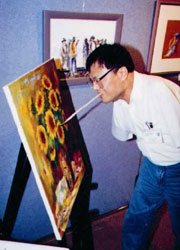 Date of birth: 21.06.1958
Place of birth: Taidong
Full member of VDMFK since: 1990
Painting style: Mouth painter
Kun-Shan Hsieh grew up in poverty and had to support himself by working in a factory after leaving primary school. At the age of 16 he suffered a very serious electric shock in a work accident. The consequences of this were so severe that both hands and his lower right leg had to be amputated and he lost the sight of his right eye. Faced with these disabilities he taught himself to sketch and draw using his mouth over a period of seven years. In 1980 he learned the techniques of painting with a renowned Taiwanese painter. In 1990 he became a full member of the association. Since 2002 he has been a member of the VDMFK managing board.
His work has been influenced both by the impressionists and by the traditions of the Far East. His oil paintings are characterised by their rich variations in shade and colour and bear impressive testimony to his character that is both optimistic and full of humour. Kun-Shan Hsieh's favourite subjects include landscapes, still lifes and animals. A particular love of his are painted snapshots capturing the motions of an indolently swimming river carp. In experimenting with the possibilities for painting in large format he produced a work with the title "Golden Pond" in a 259 x 182 cm format over a period of one year. This work won the American visual arts prize of the "Association for Especially Talented Artists" in 1997.
Kun-Shan Hsieh wrote his autobiography with the title "I am Kun-Shan Hsieh" in 2002. The book has been a great success in Taiwan and has been translated into several languages.
Manuel Parreño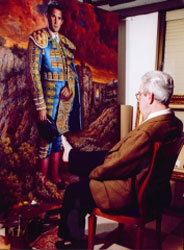 Born: 22.11.1938
Birthplace: Valverde del Camino
Member of AMFPA since: 1957
Painting Method: foot painting artist
Manuel Parreño Rivera suffered from polio at the age of seven months resulting in the paralysis of his arms and hands. For this reason he was compelled as a small boy to use his feet for doing various activities. He felt a painter's calling from a very early age: he completed his first drawings at the age of four and won first prize in a school competition at the age of eight. He further developed his artistic techniques in painting and drawing both on his own initiative as also at the School of Art in Seville. The foot painter became a member of the Association as early as 1957 and has been a member of the AMFPA board since 1995.
Drawing and painting have remained his favourite activities. His work has brought him numerous awards and honours over the years. Manuel Parreñó Rivera was among other honours appointed Professor of the "Taller Municipal de Artes Plásticas" in his homeland in 1980. In 2000 he was appointed an honorary member of the "Pontificia y Real Archicofradía de Nuestra Señora de la Soledad de la Portería" in Las Palmas de Gran Canaria, the patron of which is Her Majesty Queen Sofía of Spain. The reason for this appointment was the presentation and the consecration of one of his works for a local church.
Public attention has been drawn to his work worldwide in one man and joint exhibitions. In addition to this he also lectures widely on the work and the objectives of the Association, as well as on art in general.
Tom Yendell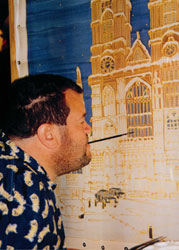 Date of birth: 21.03.1962
Place of birth: Winchester
Full member of VDMFK since: 1996
Painting style: Mouth and Foot painter
Tom E. Yendell was a thalidomide baby, born without arms. For this reason, he has used his mouth, feet and chin for the activities of everyday life from childhood onwards. Following basic schooling, he attended and graduated from the Brighton College of Art. In 1986, he was given a scholarship by the Association. Having become an Associate Member of the VDMFK in 1993, he became a Full Member in 1996. In July 2013, on the occasion of the General Meeting in Vienna, he was elected member of the board.
Tom E. Yendell's graphic works display a high degree of perfection. He likes to paint in powerful colours and with powerful brush strokes. His inspiration comes mainly from nature. One of the specialities of this mouth and foot painting artist are strict ornamental and graphically effective Christmas motifs. He has presented his works to the public at a number of exhibitions.
Tom E. Yendell is also committed to helping the disabled. Even during his studies, he organised an art seminar attended by 150 disabled persons. This was followed by further public relations work, championing the cause of the disabled in the press, the radio and on television. In addition, each year he holds a number of public lectures about himself and the work of the Association, which meet with an excellent response.
Thomas Kahlau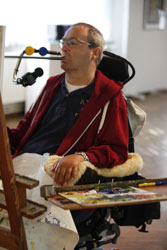 Born: 18.07.1961
Birthplace: Potsdam
Member of AMFPA since: 1995
Painting Method: Mouth painter
Thomas Kahlau attended polytechnical high school until he suffered paraplegia as the result of a swimming accident in 1976, which left him completely paralysed. From 1978 onwards he began to learn to perform many tasks with his mouth, including his first attempts at painting. He received lessons in a number of school subjects at home in 1978 and 1979. Following this he attended a painting and drawing course with a painter and art teacher for one year. He received a scholarship from the Association in 1986 and since then has worked intensively on his artistic development. He was accepted as an Associate Member of the VDMFK in 1992 and only three years later became a Full Member. In July 2013, he was elected member of the board on the occasion of the General Meeting in Vienna.
The landscapes of his native Brandenburg are among the preferred subjects in the work of Thomas Kahlau. Buildings and figures are also included in his oil, watercolour and acrylic colour paintings. His work, which is generally highly expressive in character has been exhibited in numerous solo presentations throughout Germany, but he has also participated in international exhibitions. Thomas Kahlau has frequently achieved notable successes with his art. A highlight in his career as an artist was the award of the prestigious German Distinguished Service Cross by the German President on 10 October 2000. This high award was in recognition of his artistic achievements and his social commitment. Thomas Kahlau also has literary work to his credit: he has told the story of his life in a book entitled "Die Kraft in mir" ("The Strength in Me").